Day one of the Waikato-Tainui regional trade hui has generated robust kōrero, he whakaaro rite and strong interest in how to maximise opportunities for Māori in export trade.
Organised by Te Taumata – a network working to deliver better trade outcomes for Māori – the hui has created a platform for Māori businesses and leaders to directly connect with government agencies and ministers who can help progress Māori trade interests.
Opening the hui, Foreign Affairs Minister, Nanaia Mahuta, spoke to the power of trade as New Zealand and the world recovers from COVID.
Minister Mahuta reaffirmed the Government's commitment to opening new doors into high value international markets and ensuring this is accessible and equitable for Māori exporters. Watch her full address here.
The first day of the hui also heard from key officials and ministers, including Parliamentary Under-Secretary Trade and Export Growth Rino Tirikatene, MFAT Chief Executive Chris Seed, NZTE Export Business Advisor Francis Davy, Tanya Wilson from Callaghan Innovation and Governor of the Reserve Bank of New Zealand, Adrian Orr.
We have collated some key highlights from Day One, below.
Ngā mihi,
Chris Karamea Insley
Government working to open up trade opportunities for Māori
Representing the Government today, Parliamentary Under-Secretary Trade and Export Growth Rino Tirikatene, told the hui that resetting New Zealand's trade agenda to ensure the benefits are felt throughout Aotearoa, and especially by iwi Māori, has been a key milestone to moving forward with the country's trade-led recovery.
He says it is a great honour to tautoko such an important kaupapa and acknowledges Te Taumata's role in bringing together Māori and government agencies to improve trade opportunities for Māori businesses.
Having attended three Te Taumata trade hui, Rino says these regional hui have been instrumental in making government agencies more accessible to Māori businesses.
"It is a work in progress but what I would like to advance is the further imbedding of Māori participation in the business we do internationally.
"Whanaungatanga and making connections is vitally important but we're in this to help our whānau benefit financially.
"Key Free Trade Agreements with the UK and now the European Union can and should be leveraged to sell our wonderful goods all over the world.
"It is so important Māori are on a level playing field and have the same access and opportunity to generate the same returns from utilising these trade agreements."
NZTE helps Māori businesses secure $70 million in deals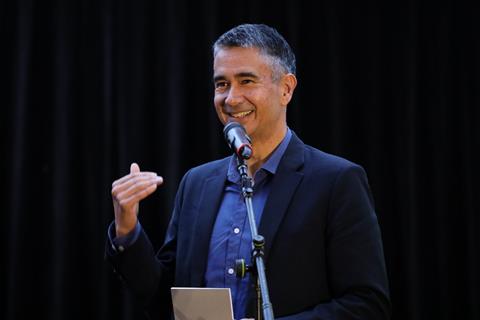 The Māori businesses currently utilising the full suite of services offered by New Zealand Trade and Enterprise have benefitted from $70 million in deals, Export Business Advisor, Francis Davy, has told hui attendees.
There are currently 100 Māori businesses accessing NZTE's support services and the agency wants to see that grow.
From supply chain support, market research and digital opportunities to strategic planning and branding, as well as access to NZTE's International Growth Fund, the agency is committed to supporting Māori.
"All of these services are free and readily available to provide tangible help to Māori businesses entering international markets.
"Today, 30 people across NZTE have direct touch-points with Māori, supporting them in export. Our vision is to have all NZTE's 600 staff supporting Māori businesses across the world."
How the NZ/EU Free Trade Agreement will open new doors for Māori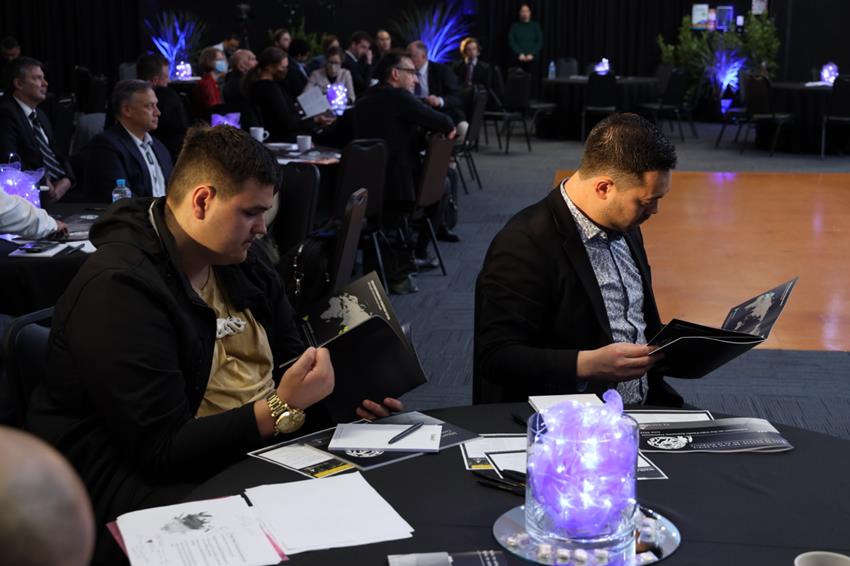 In a video message, New Zealand Lead Trade Negotiator Vangelis Vitalis outlined the significant benefits Māori will gain through the new NZ/EU Free Trade Agreement (FTA).
The FTA unlocks access to one of the world's biggest and most lucrative markets, with export revenue expected to grow by up to $1.8 billion annually on full implementation.
This is the first time New Zealand – and Māori – have had a level playing field in Europe with the removal of tariffs on key goods.
The FTA also includes a 'Māori Trade and Economic Co-operation' chapter, providing an important new platform with the EU to enable Māori to benefit from the agreement and co-operate to advance Māori economic aspirations and wellbeing.
This is the first time the EU has included such a chapter in a FTA and it presents a new opportunity for Māori to advance trade interests in the European Union.
The challenges facing other major international markets added to the importance of negotiating this agreement.
"We have achieved significant commercial outcomes with this agreement and now 75 per cent of New Zealand's trade is covered by FTAs.
"The agreement is very much in the interest of New Zealand and will deliver significant benefits for Māori."
Concluding his speech, Vangelis acknowledged the input from Te Taumata and how that input helped shape the position of New Zealand negotiators and ensured Māori interests were accurately represented and protected.
Māori involvement in trade will see Māori benefit at home
Will Workman, of Workman Enterprises, has highlighted the importance of trade for Māori.
Offering services in business development, strategic planning, and policy advice and interpretations, Will advocates for trade that involves and benefits Māori.
"Without trade, Aotearoa will face economic recessions and our whānau at home will find things harder.
"There has been significant efforts to show how trade can help Māori and establishing agreements with partners who share our values."
Looking forward, Will says he wants to see the establishment of an indigenous accreditation system allowing businesses to accredited their goods as reflecting and benefitting Māori.
"There is a lot of generic use of Māori concepts and mātauranga Māori across Aotearoa that isn't going back into helping our whānau locally. It is up to us as Māori to develop that accreditation system and make sure Māori benefit from the use of our culture, our reo, our tikanga."
Māori businesses in favourable position to weather higher interest rates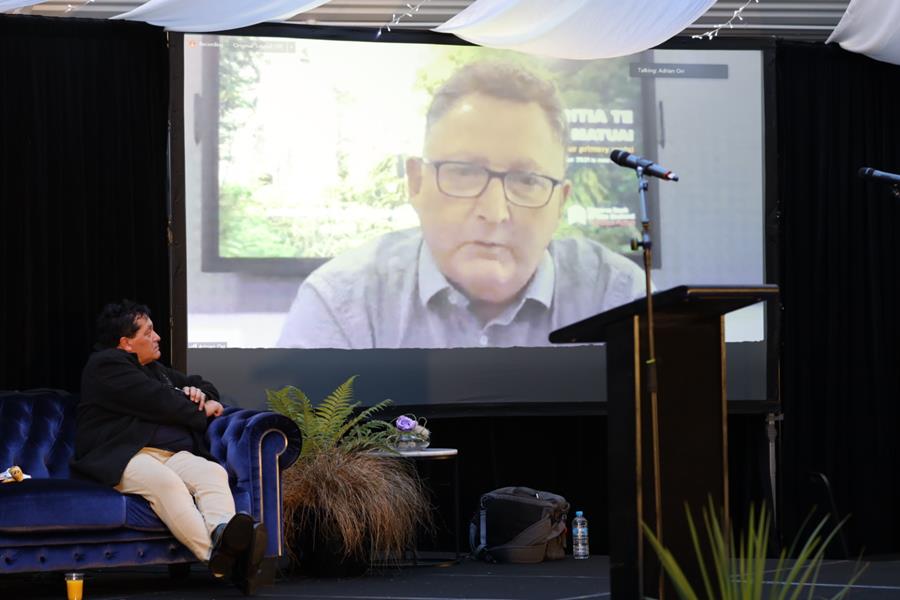 Governor of the Reserve Bank, Adrian Orr, says the low levels of debt held by Māori businesses will put Māori in good stead to weather this period of heightened interest rates.
Tuning in to the hui via Zoom, Adrian says the current global economic climate has made trade incredibly challenging for businesses.
However, relative to mainstream businesses, Māori enterprises are not encumbered by debt, allowing Māori to seize opportunities faster as New Zealand and the world recovers from COVID.
While interest rates will remain higher for
a time, as this period of global unrest calms down, so too will the rates.
To support Māori through this time, Adrian spoke of the benefits to establishing a banking system to allow Māori to pool and share capital more effectively. This concept is currently being explored within Te Taumata.
Talking on trade, Adrian says relationships are vital as international markets will look to trade partners they can lean on long-term.
Adrian is developing a short paper on his key observations of the current climate and how it affects Māori. When complete, this paper will be available on our website.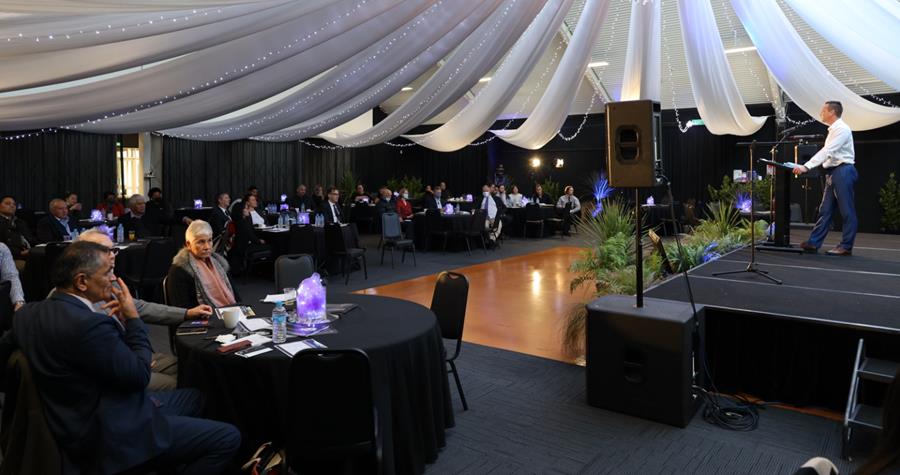 Day Two of the Waikato-Tainui regional trade hui will kick off at 9am tomorrow (7 July) at the Hamilton Gardens. All whānau currently exporting Māori goods or looking to enter international markets are welcome to attend. See the full programme here.