Māori leaders and businesses across Waikato-Tainui have come together with trade and export officials for Day Two of the fifth Te Taumata regional trade hui.
The hui has continued to facilitate constructive dialogue between Māori and officials and has given Māori an opportunity to get our pātai answered in real time.
Waikato-Tainui leader and Chairman Tukoroirangi Morgan also used the platform to move a formal resolution, as mana whenua of the region, to see Te Taumata continue in its current form – without change – for the next two years.
This was seconded by Geoff Rice, representing Te Arawa and the resolution was supported by hui attendees unanimously.
When advocating for Māori in trade, Tukoroirangi says continuity is crucial to continue making headway.
Today's impressive line-up of guest speakers has included a mix of Māori leaders, businesses and trade, government and international officials.
Most notably, attendees had the chance to hear from European Union Ambassador Nina Obermaier, in her first public meeting on New Zealand soil since the conclusion of the NZ/EU Free Trade Agreement negotiations.
We also heard from Ngāti Maniapoto Chairman Kieth Ikin, Miraka Chief Executive Karl Gradon and The Piripi Group's Simon Phillips.
Read some of the highlights from today's kōrero, below.
EU Ambassador speaks to Māori at first meeting in NZ since FTA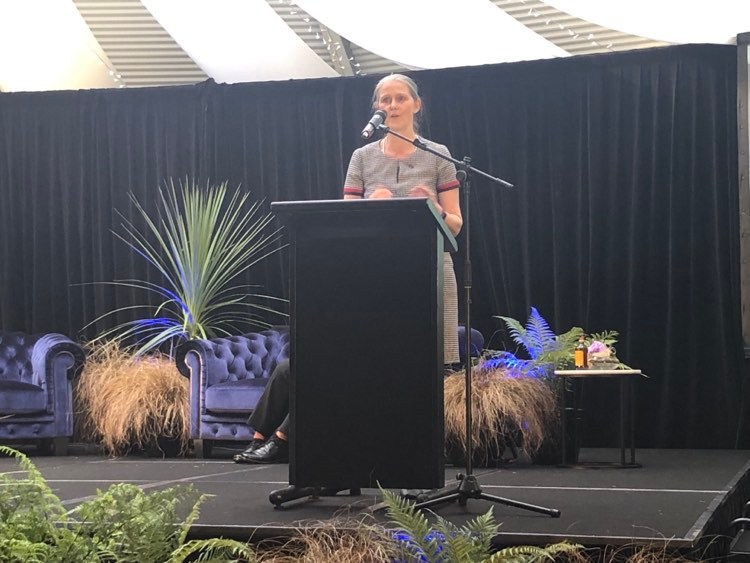 Touching back down in Aotearoa after concluding negotiations for the NZ/EU Free Trade Agreement (FTA), European Union Ambassador Nina Obermaier has joined Day Two of our trade hui to speak about the FTA and the significant windfalls it presents for Māori.
Describing it as an "ambitious FTA", Nina says negotiations went down to the wire with New Zealand negotiators pushing right to the end to get more for Aotearoa.
"At a time when the trade agenda is facing headwinds across the world, concluding this agreement with a likeminded partner is a huge achievement.
"There are a lot of new opportunities that can be exploited from the first day the agreement comes into force, from the removal of tariffs on goods across a range of sectors to strong potential for EU investment in New Zealand."
For the first time in an EU agreement, sustainability has been made legally enforceable, with both parties obliged to implement labour standards and the Paris agreement.
Nina says there were long discussions on Intellectual Property and Geographic Indicators and there is an opportunity for Māori in this space.
"We have heard the fears around this but equally we see there is an opportunity. By linking your products to traditional production methods, you can create extra value, giving consumers an assurance of authenticity and quality."
Finally, Nina specifically thanked Te Taumata for its role in pushing the importance of having an Indigenous Chapter in this new agreement.
"It's thanks to the leadership of Te Taumata and them explaining the significance of that chapter to Māori business that we were able to get it across the line."
Following her presentation, the floor was opened up to real Māori businesses who talked about their experiences in the sector and their hopes and expectations of the FTA.
Read more about the NZ/EU FTA here.
Ngāti Maniapoto on the power of making the right partnerships
Having settled its Treaty of Waitangi claims at the end of 2021, Ngāti Maniapoto is now focused on growing key partnerships that will foster growth for whānau at home.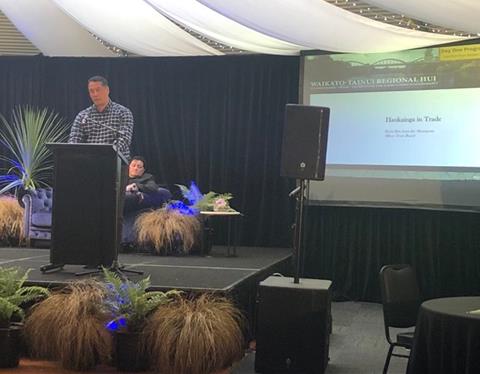 One of the first speakers at today's hui, Chairman Keith Ikin stressed how critical collaborative relationships will be moving forward to support the Ngāti Maniapoto in its aspirations.
"After 30 years of treaty settlements, it is time for Ngāti Maniapoto to break the focus away from the Crown and nurture our key relationships outside the Crown.
"These relationships start at home with other producers, farmers and industries that support the agricultural sector. There are significant opportunities for us to work collectively with those who reside with us to work towards shared goals and aspirations."
Keith says as a significant exporter within the region, there is still a desire to work with Crown agencies and Ngāti Maniapoto has entered into a number of formal partnerships that will help grow its knowledge and experience.
"We are not here for five years, not 50 years, not 500 years, we are here forever, so we want to assure our mokopuna and generations to come that their inheritance is looked after.
"It's a non-negotiable for us that our kaitiakitanga responsibilities are at the heart of everything we do. There is so much more we should and could be doing but we recognise we cannot do it alone.
"Seeking partnerships that recognise it is for us to set the priorities and be in the driver seat will allow Ngāti Maniapoto to shift our focus to the future."
Focus on kaitiakitanga gives Māori leading edge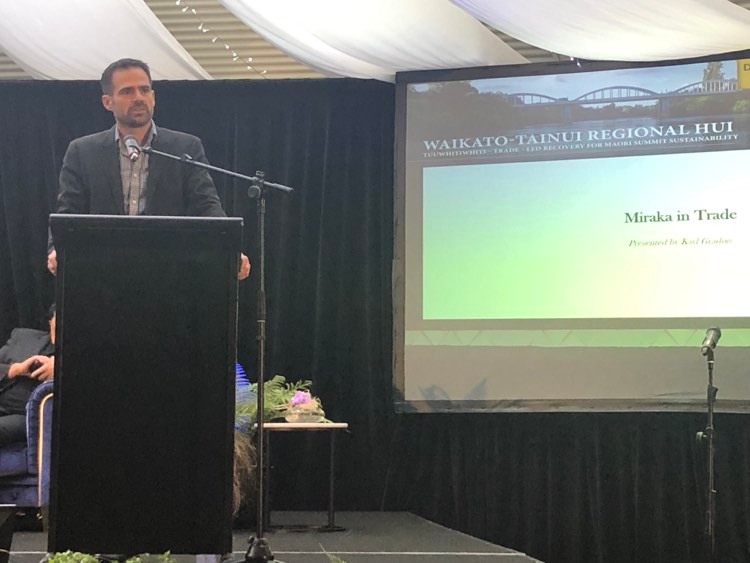 Miraka – one of the largest Māori exporters – has kaitiakitanga so firmly embedded in its operation that there is not a single dairy processing plant in the world that can match its carbon footprint.
Chief Executive Karl Gradon says the proud Māori organisation, which has been in business for 12 years, is generating $300 million in sales internationally.
Currently a lot of that trade is in China but Miraka wants to pivot away to ensure it is partnering with nations that have a focus on kaitiakitanga.
"That is why the UK is important for us – we don't have a kaitiakitanga strategy because it's a value – it is embedded in everything we do and we want partners who share that value.
"The visionaries who established Miraka were ahead of their time, that's why we have a 92 per cent less carbon footprint in our processing facilities than Fonterra.
Karl says trade for Māori business is exceptionally promising, with the rest of the world finally catching up to Māori when it comes to kaitiakitanga.